4-Device Universal Remote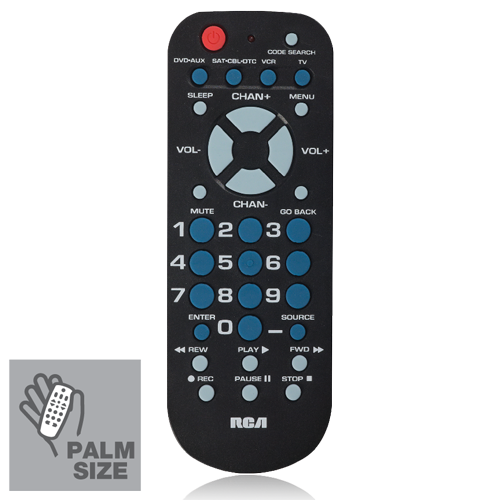 $5.49
Model :&nbsp RCR504BE
KEY FEATURES
Controls up to 4 home theater components

Keys for TV, DVD or auxiliary component, VCR, and satellite receiver, cable box, or digital TV converter

Replaces and consolidates most major remote brands

Simplifies device setup with automatic, manual and direct code search methods

Enables direct access to HD over-the-air digital sub-channels (like 59.1)
PRODUCT OVERVIEW
Quite possibly the most comfortable remote you'll ever hold, with simple setup and support for virtually every major brand of electronics, the RCA 4-device universal remote is the answer to your remote replacement or consolidation needs.
Features
(continued)
Menu support and Sleep keys
Palm-sized design makes the remote easy and comfortable to hold
Easy-to-use keys with multi-colored keypad
Limited 90-Day Warranty
CUSTOMER REVIEWS
My Lil remote
by
Regina Patterson
, on
2019-Jul-26
Had put this lil remote back in a drawer forgotten... Needed him one day, and was feelin' rotten Charged him up, programed him too Then he worked! As good as new!
Remote control
by
Haydee Camacho
, on
2019-Mar-27
I just bought control remote universal 4&1 CRCR504BE and is perfect but the input button or source button does not let me choose