6-Device Universal Remote Control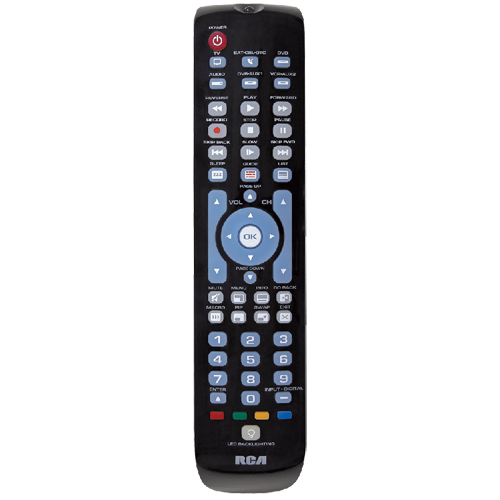 $19.99
Model :&nbsp RCRN06GBE
KEY FEATURES
Learning capability lets you transfer capabilities from your original remotes to this one.

Macros (up to 6) let you condense multi-step actions, like watching a DVD, into a single keypress.

Blue backlit keypad makes remote easy to see in any light.

Red, blue, yellow and green keys access advanced cable, satellite or Blu-ray functions.

Simplifies device setup with automatic, brand, manual and direct code search methods.
PRODUCT OVERVIEW
Designed with the most demanding home entertainment systems in mind, this RCA 6-Device Universal Remote Control remote is still easy to program and easy to use, with support for over 400 brands.
Features
(continued)
Expanded DVD and DVR capabilities
Ergonomic, thin design
Controls TV, SAT/CBL/DTC, DVD, AUDIO, DVR/AUX1, VCR/AUX2
Menu and Guide support
Volume and transport key punch-through
Channel lock
Go Back (previous channel), Sleep and PIP/Swap
Requires 3 AAA batteries (sold separately)
Limited lifetime warranty